We love board game cafes!
I know that the board gaming community can sometimes be split on this issue. We have a big board game collection, we have each other and other friends to play with, so why would we pay money to go to a cafe and play games, as well as probably spending extra money of food and drink?
My main motivation is for visiting cafes that have large board game libraries and have games that I want to try before I by. This means that I'm way more likely to visit a cafe if they list their game collection online. It also means I'm way more likely to play shorter games at cafes that charge a cover charge for a limited length of gaming time, so that I can get the most 'value for money' out of the games I play.
Besides our 'work' visits where I'm on a mission to try new games, we also use board game cafes as a place to meet friends to catch-up over a few drinks or a snack and we often visit cafes whilst we're traveling around the UK or elsewhere when our board game collection is not at hand. And that's the reason I want to start this list. As we visit more cafes here in the UK I'm going to record some of our thoughts but otherwise I just want to keep this as a list and resource for gamers.
Draughts
(Haggerston, London & Waterloo, London)
Cover charge of £5 for 4 hours. Reservations on weekdays only.
I believe Draughts was the second board game cafe I visited. Located under the railway arches in Haggerston, London, it can certainly be a noisy environment with echoing laughter and the rumbling trains. However, there's no denying that it's a popular place to be with a great game selection as well as beers and very tasty food. Draughts is definitely making board gaming cool in East London and at least 50% of people there probably wouldn't call themselves 'gamers' but Guess Who is happily played alongside Caverna or even X-Wing miniatures, next to the UK Playtesting group.
In 2018 Draughts opened a second venue near Waterloo Station. This is a much more convenient venue for us and we can't wait to check it out!
DICE Portsmouth
(Portsmouth)
DICE is hands down one of the best board game cafe experiences we have had. Their space is large, with lots of tables, but it still feels airy and spacious. They say that their game library is a work in progress, but it's already huge - probably at least 600 games - but very focused on gamers. It's perfect for us, but perhaps has less mainstream games that some cafes. They have simple, but good food and a great selection of drinks, including craft beer. Unlike many cafes, Dice has table service, as well as game gurus on hand to help with many of the titles in the library. All of this makes for a really relaxing experience and I only wish that DICE was closer to home!
Thirsty Meeples
(Oxford & Bath)
Thirsty Meeples is the first board game cafe we ever visited and I believe it has the biggest library of any cafe in the UK. The library is so big that many of the games are now stored off-site, so be careful if you're looking to play a rare, unpopular gem! Thirsty Meeples has a great atmosphere, good beer and tasty snacks, although you probably couldn't eat an evening meal. We were also lucky to take advantage of their mobile library and game gurus for our wedding! Do get in touch with them if you want to organise a board gaming event!
Chance & Counters
(Bristol & Cardiff)
Cover charge of £5 for 4 hours.
We've visited the Bristol location of Chance & Counters, which is located at the bottom of the Christmas steps, which I hope means it gets quite a lot of attention. Based on how busy it was on a Sunday lunchtime we can only assume it's very popular. They have a library of around 950 and there were plenty of games for us to choose from even though we only like to play new games at cafes. The menu is simple but tasty and they have craft beer on tap. The staff are also really friendly and very knowledgeable about the games. They're definitely a great location to check out!
FanBoy3
(Manchester)
Cover charge of £3 for unlimited play.
Although not strictly a cafe, Fan Boy 3 does have a gaming library and you can pay to play at any time of day. They also have a cafe, with drinks and snacks, available at certain popular times. We really like the system they have in place where your game library fee can be used as a discount towards a purchase in the shop.
Dice Saloon
(Brighton)
Dice Saloon is not quite what I think of as a board game cafe, but it does have some snacks available, as well as tables to play at and a games library that you can pay a small charge to use. It also has a significant amount of war gaming happening, but there are board game clubs that run events there too. Aside from this it's also a great board game store.
Loading Bar
(Dalston, London)
I'm hesitant to include Loading Bar on my list of board game cafes because it's primary focus is console gaming. However, we've been there and played board games from their growing collection, which is probably at least 150 games at this point. Lots of other people seem to only visit for board games too. I'm not sure that Loading Bar serves food, but they do make some very exciting video game themed cocktails. It's great location to take some of your geeky or video game friends to introduce some board games to the table. Loading Bar also have a Stratford location which we haven't visited.
The Library Pot
(Richmond, London)
I would describe The Library Pot as an eclectic venue in Richmond. It has a game library of around 500 games and a very homely atmosphere. They run lots of gaming events including introductions to some classic games, as well as meetups and some new game launches. It also has a ball pool downstairs, if that's what you're into.
The Ludoquist
(Croydon)
Cover charge of £3 for unlimited play.
The Ludoquist opened during Autumn 2017 in Croydon. With a collection of over 1200 games, great coffee, beer and cocktails, as well as a good lunchtime and evening menu, it's become a very popular venue at evenings and weekends. It brings in both a family crowd and seasoned gamers and caters for both with the games and great games gurus to teach you games or recommend something you might like from the shelves.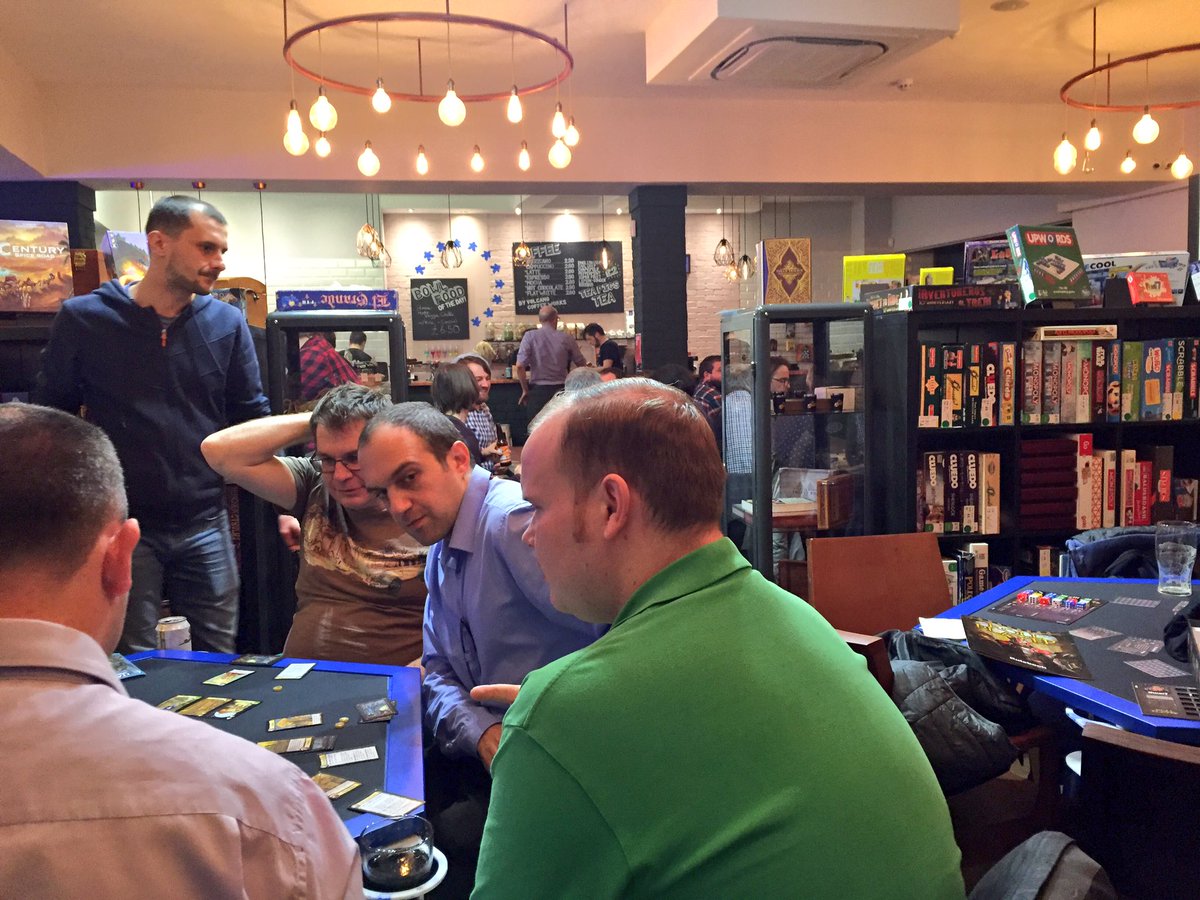 Opening Night at The Ludoquist
Board in the City
(Southampton)
Board in the City is run as a community interest company which invests heavily in public outreach with schools, the elderly and similar groups. They have a big space and a good games collection, as well as being able to cater for war-gaming in some of their separate spaces.
Cakes and Ladders
(London)
Cakes and Ladders is a board game cafe on a vintage London bus! Whilst table space is pretty limited and you might not want to try and big games and perhaps might not even want to play a game with four players unless you're extremely good friends, it's amazing how many games they've crammed into their library around the drivers seat! The food is great, the staff are friendly and they have a great selection of local beer, since the venue operates as a bar at night time. Playing at Cakes and Ladders is definitely a board game cafe experience you shouldn't miss!
D20
(Watford)
D20 has an unassuming frontage, but inside it's like a cave of board game wonders that just keeps on going. With family games in the front and more strategy games in the back, we could probably game there a good few months and still be finding new games that we want to try. The menu is one of the extensive we've seen at any cafe and it was nice to find something different to eat whilst still being board game friendly. If you're looking for a large and varied collection, then D20 is totally a cafe to check out.
Random Encounter
(York)
Random Encounter calls itself a 'pop culture cafe'. They have a small location just outside the city walls of York with video game consoles and a respectable board game collection, ranging from traditional games to mid-weight modern board games. The cafe is pretty basic and definitely has a 'cafe on a shoestring' approach. The food and drinks are limited, but tasty and the game selection was enough to keep us occupied for a few hours. There's also a vintage video game store next door if that's your thing too!
Slice & Dice
(Bolton, Greater Manchester)
We haven't visited Slice & Dice, but we almost did once. We gave them a quick call before we made the journey, to ask about their setup and board game library. We were told they had a library of 10 games, so we decided not to make the journey. Maybe Slice & Dice is more of a venue for gaming with pizza, rather than a traditional board game cafe? Please let us know if you have visited.
Geek Retreat
(Glasgow, Newcastle, Leeds, Milton Keynes & Birmingham)
We have not visited any Geek Retreat locations, but they appear to be a franchise and have five current locations. The venue looks more like a game store with some snacks and drinks available, but there also seems to be plenty of gaming space.
West End Games
(Glasgow)
Unboxed Gaming Cafe
(Ayr, Scotland)
Common Ground Games
(Stirling)
Bake Battle and Roll
(Doncaster)
Settlers
(Hamilton, Scotland)
The Dice Box
(Leamington Spa)
Games Hub
(Edinburgh)
Noughts and Coffees
(Edinburgh)
Dice and Slice
(Colchester)
Nerdy Coffee Co
(Shrewsbury)
The Boardroom
(Todmorden)
Bean Gaming
(Leicester)
Warboar Games
(Bromley)
Playopolis UK
(Rochester)
The Mug and Meeple
(Gravesend)
The Board Room
(Hull)
Board
(Exeter)
Max Xp Gaming
(Glasgow)
Tea@Hart
(Hartlepool)
Dark Matter
(Durham)
Sugar & Dice
(Liverpool)
Tiny Ricks
(Liverpool)
Critical Hit Games Cafe
(Liverpool)
Red Panda Gaming Cafe
(Lincoln)
The Treehouse
(Sheffield)
Meeple Perk
(Newcastle)
Players Paradice
(Milton Keynes)
Game Knight
(Derby)
Meeple Mayhem
(Birmingham)
The Dice Cup
(Nottingham)
Ludorati Cafe
(Nottingham)
Heaxagon Board Game Cafe
(Taunton)
Ready Steady Roll
(Bedford)
Playground Coffee House
(Bristol)
Jack Straws
(Belfast)
Twist
(Plymouth)
If you know a cafe that isn't on the list or are opening a cafe that you want to be included, then please leave a comment below and we'll add you to the list and even try to come and visit!